There are a lot of devices out there marketed as "muzzle brakes" (and sometimes, "muzzle breaks") for airguns. Most of them are worthless as anything more than decoration. To understand why, let's look at a real muzzle brake.
This is a custom muzzle brake made for a Beeman C1 carbine by a gunsmith who specializes in firearms muzzle brakes. It was made as an experiment, to see if it would be of any help on an airgun.
Basically, it's a barrel extension, bored out slightly larger than the bore of the rifle, with a number of holes drilled at right angles to the bore. In a firearm, these holes would serve to bleed off propellant gasses before they exited the end of the barrel. In modern firearms, over half the recoil energy can be due to escaping, gas, so you can see why such devices are commonly fitted to magnum rifles- as well as lightweight artiliary pieces and main tank guns. Sometimes the brake is designed to vent gasses backwards, further reducing recoil. If you can get rid of recoil energy, you can make a gun lighter, and still controllable.
You can also make a muzzle brake by providing a chamber into which propellant gasses can expand at the muzzle, capped off with a constriction at the end that is just large enough to allow the bullet or pellet to pass through- but which will slow down the escape of the expanded gasses.
Some guns- like pistols designed for rapid fire competition- have muzzle brakes that vent escaping gasses upward, to counter muzzle climb and help the shooter stay on target.
Of course, the recoil from the air escaping an airgun is practically negligible- but there's a secondary benefit to muzzle brakes. The "bang" you hear when firing a gun is the gas expanding supersonically from the muzzle. This gas leave the barrel at a much higher speed than the bullet- it's much lighter- and actually passes the bullet in the form of an expanding shock wave front. This can have a negative effect on bullet stability, especially with lightweight projectiles. If you can reduce the amount of gas hitting the pellet after it leaves the barrel, you should be able to increase accuracy.
In the case of the brake made for the C1, there was a small, but repeatable, increase in accuracy. I'm not sure if it makes sense to do a $200 custom muzzle brake on a gun that at the time sold for less than that, but it did establish the utility of the idea. But are there cheaper muzzle brakes that work as well?
The cheapest device on the market sold as a "muzzle brake" is the Beeman, a piece of lathe turned and anodized aluminum advertised as being "precision-turned from the finest aircraft-grade aluminum" that sells for $29. If we look at a cross section, we see that escaping air isn't vented or directed away from the axis of the bore, although there is a widening and then a slight contraction at the end. This does create a small expansion chamber that might delay the expanding shock wave- although not by much. Beeman doesn't make any great claims for the device other than in protecting the end of the barrel, adding a bit of steading mass, and making a nice cocking handle. It's cheap, and indeed performs all these functions just fine. I've installed a few on guns I've owned.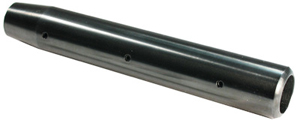 For $50, Beeman will sell you their "Crow Magnum" muzzle brake- actually a modified Theoben unit. This consists of an attractive polished cylinder with a large expansion chamber. Again, it's mostly a muzzle weight and decoration, as it's missing the end baffle- the part that delays the shock wave and slows the expanding gasses. Removing the baffle turns an erffective muzzle brake into a barrel weight. Exactly why Beeman did it this way will be the subject of a future essay.